Eight Arab films are on their way to compete in the next academy awards for the title of the best international feature film. Submissions deadline was November 1st, and the shortlist is expected to come out by December 21st.
Check below the full list of films submitted by the Arab countries to the OSCARS.
1. Algeria – Héliopolis
"Héliopolis" is a historical and dramatic film inspired by real events; it traces the beginning of the tragic events of May 8, 1945 and the massacres of Sétif, Guelma and Kherrata in Algeria during French colonization.
Héliopolis is directed by Djaffar Gacem, written by Salah-Eddine Chihani, Djaffar GacemKahina and Mohamed-Oussaid, and starring Souhaila Mallem, Mehdi Ramdani and Cesar Duminil.
2. Egypt – Souad
"Souad" a dramatic film about the relationship between two sisters. One of them, Souad, leads a double life; a conservative one in reality, and a secret virtual one on social media projecting wishful images of a different desired life. A series of small incidents lead to a tragic event that makes Rabab, Souad's little sister, embarks on a real-life journey looking for answers. The film is directed by Ayten Amin, written by Ayten Amin and Mahmoud Ezzat, starring Bassant Ahmed and Basmala Elghaiesh, and produced by Vivid Reels, Nomadis Images, and ACC partner Film Clinic.
3. Iraq – Europa
A story of a young man who fled Iraq to try to enter "Fortress Europe". Alone in the forest, Kamal has three days to escape the local mercenaries are ruthlessly hunting down migrants. "Europa" is directed by Haider Rashid, written by Haider Rashid, Sonia Giannetto and Erfan Rashid, starring Adam Ali, Erfan Rashid and Gassid Mohammed.
4. Lebanon – Costa Brava, Lebanon
A couple decide to leave the toxic pollution of their home city of Beirut, hoping to build a utopian existence in a pristine home in the mountains in "Costa Brava, Lebanon". The film is directed by Mounia Akl, written by Mounia Akl and Clara Roquet, starring Nadine Labaki, Saleh Bakri and Yumna Marwan, produced by About Productions, Barentsfilm, Boo Pictures, and distributed by ACC partner Film Clinic.
5. Morocco – Casablanca Beats (Haut et Fort)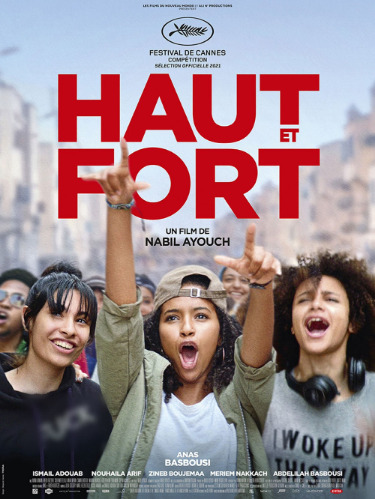 A story of a former rapper is newly employed in a cultural center, he encourages the students to try to free themselves from the weight of traditions to live their passion and express themselves through hip hop culture. "Casablanca Beats" is directed by Nabil Ayouch, written by Nabil Ayouch and Maryam Touzani, and starring Ismail Adouab, Youssef Ahmed, Nouhaila Arif.
6. Palestine – The Stranger (Al Garib)
In occupied Golan Heights, a desperate unlicensed doctor subverts his village's expectations when he accidentally encounters a wounded soldier from the war in Syria. The film is written and directed by Ameer Fakher Eldin, starring Ashraf Barhom, Mohammed Bakri and Amal Kais, and produced by AFAC, Apricot Films, Doha Film Institute, Filmförderung Hamburg Schleswig-Holstein, Fresco Films, Metafora Production and Red Balloon Film.
7. Somalia – The Gravedigger's Wife
In times of misfortune, Guled and Nasra are a loving couple, living in the outskirts of Djibouti city with their teenage son Mahad. Nasra urgently needs an expensive operation to treat chronic kidney disease. Guled is already working hard as a gravedigger to make ends meet; however they are facing difficult times, how will they find the money to save Nasra and can they keep the family together? "The Gravedigger's Wife" is written and directed by Khadar Ahmed, and starring Omar Abdi, Yasmin Warsame, Kadar Abdoul-Aziz Ibrahim.
8. Tunisia - Golden Butterfly (Fartattou Al Thahab)
"Fartattou Al Thahab" is a story of a thirty years old police man with a bloody background who meets a young boy and goes with him on an outstanding quest. The film is directed Abdelhamid Bouchnak and Marwa Znaidi, written by Abdelhamid Bouchnak, starring Hala Ayed, Fethi Haddaoui and Zarrouk Brahim, and produced by Shkoon Production and SVP Production.